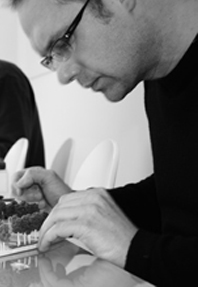 Mark Johnson CMLI, BA Hons, BLA
Founding Director
A Landscape Architect with over 20 years' experience in a variety of sectors, including commercial, health, education, retail and leisure. Mark has a broad range of skills and experience in design, visualisation, detailing and specification writing, along with practical experience in construction, job running and site inspection.
Having first undertaken studies in both horticulture and arboriculture, Mark then graduated in Landscape Architecture from Manchester Metropolitan University.
At the Community Technical Aid Centre (CTAC) in Manchester, he worked extensively in deprived communities developing excellent skills in community consultation and an intimate understanding of the needs of socially deprived communities.
Mark then joined the large international practice West 8 in Rotterdam for three years. He led on the design and development of a number of cutting edge and internationally important public realm schemes including Stratford City and the Commonwealth Institute redevelopment.
Shortly after returning to England, Mark established UBU Design, which has expanded into a growing and thriving business.
Mark is a CABE Built Environment Expert (BEE). BEEs are a group of highly respected specialists supporting CABE in delivering high-quality designed places throughout England. He also reviews schemes for the Southampton Design Panel, Hampshire Design Panel, Test Valley Design Panel and North East Hampshire.